"Unassailable research methods" required to influence child maltreatment policy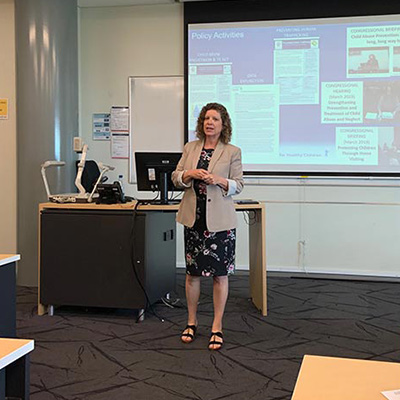 "To change policy, we need to leverage unassailable research methods," Professor Jennie Noll told the audience at a recent research seminar hosted by CSDA and AUT's Policy Observatory.
Professor Noll, director of the Child Maltreatment Solutions Network at Pennsylvania State University (PA, United States) spoke about "The Impact of child maltreatment on development: Implications for prevention and policy", focusing on what is required to have the best chance of translating research findings into better policy and practice.
Professor Noll shared highlights from her decades of longitudinal cohort studies where she uses prospective methods to strengthen causal inference about the impact of maltreatment across the lifespan and to test mechanistic models that inform novel treatment approaches.
The audience also learned about the activities of Pennsylvania State University's NIH (National Institutes of Health) Capstone Center for Healthy Children, of which Noll is the Director and Principal Investigator. The Center's research includes the biological embedding of child maltreatment; community-based-participatory research that directly benefits the child welfare system and development of a national model for a research-to-policy pipeline.