Machine learning to help the homeless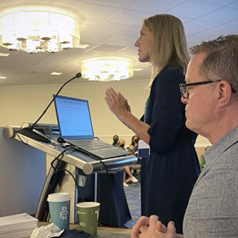 Plenty of interest is being shown in AUT's Centre for Social Data Analytics (CSDA) use of machine learning that reduces issues of systemic racism when housing the homeless.
The centre has been working on a predictive risk model in Allegheny County, Pennsylvania, that helps prioritize clients for housing services.
CSDA Director Rhema Vaithianathan recently presented on the Allegheny County Homelessness Assessment tool to the National Alliance to End Homelessness, together with University of Pennsylvania Professor Dennis Culhane and Erin Dalton (pictured), Director at the county's Department of Human Services.
"We found a lot of interest from agencies around the United States on doing something similar," Professor Vaithianathan says.
"Early data from Allegheny confirms that the use of the Allegheny County Homelessness Assessment tool reduces racial disparities and focused services on people with a higher risk of adverse outcomes."
Professor Vaithianathan says that society often doesn't have enough housing to accommodate all those who are homeless, and the sad reality is that social services have to prioritize who is housed.
"Research by us and other groups across the US shows that existing manual approaches are not validated and favour white clients. We think that using machine learning tools to make sense of data that already exists could be a better way to assess client needs and reduce racial bias."
CSDA is talking with cities with larger homeless populations about how a similar approach might work for them.
Learn more about CSDA's Housing Assistance Screening Tools and the Allegheny Housing Assessment tools.