CSDA and county partner share housing triage tool at national US homelessness conference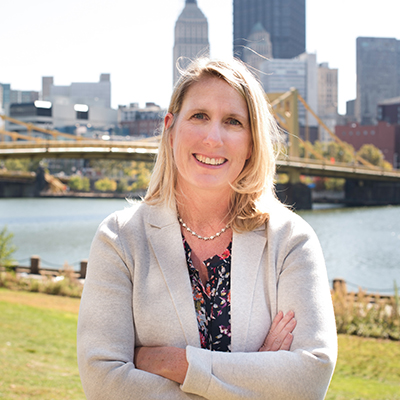 CSDA Director Rhema Vaithianathan and Allegheny County Department of Human Services Director Erin Dalton (pictured) spoke at the National Virtual Conference on Ending Homelessness conference in September.
The annual conference hosted by the National Alliance to End Homelessness is the largest convening of service providers, leaders, advocates, and consumers working to end homelessness in the United States. This year it was focused on best and innovative practices in the field, emerging challenges and how housing providers can adapt to funding increases.
Rhema Vaithianathan and Erin Dalton (pictured) spoke about the Housing Assistance Screening Tools (HASTs) developed by CSDA and implemented in Allegheny County, PA (United States). The tools, which CSDA builds specifically for a county using existing administrative data, help to prioritise requests for housing support according to a client's risk of experiencing housing-related adversities.
"Requests for housing help by far outnumber supportive housing slots in the United States, so effective triage tools are critical for the agencies that manage housing allocation. Many agencies are using sub-optimal triage methods that are time consuming, invasive and inaccurate and want to upgrade," said Rhema Vaithianathan.
"The audience were aware of the limitations of current approaches, which tend to rely heavily on lengthy and invasive questionnaires and were interested in hearing how we build these tools that use local data to instantaneously generate a measure of risk, making prioritization easier. It was particularly useful for the audience to hear first-hand from Erin Dalton (pictured) about the Allegheny County case study and what it was like on the ground for Allegheny as it worked hard to implement this new approach."
CSDA is hosting a webinar about the Housing Assistance Screening Tools together with the National Alliance to End Homelessness and the Actionable Intelligence for Social Policy network at the University of Pennsylvania, on 30 September 2021 – find out more and register.
Learn more about CSDA's Housing Assistance Screening Tools and the Allegheny Housing Assessment tools.