Physical spaces and mood – a MyDay pilot study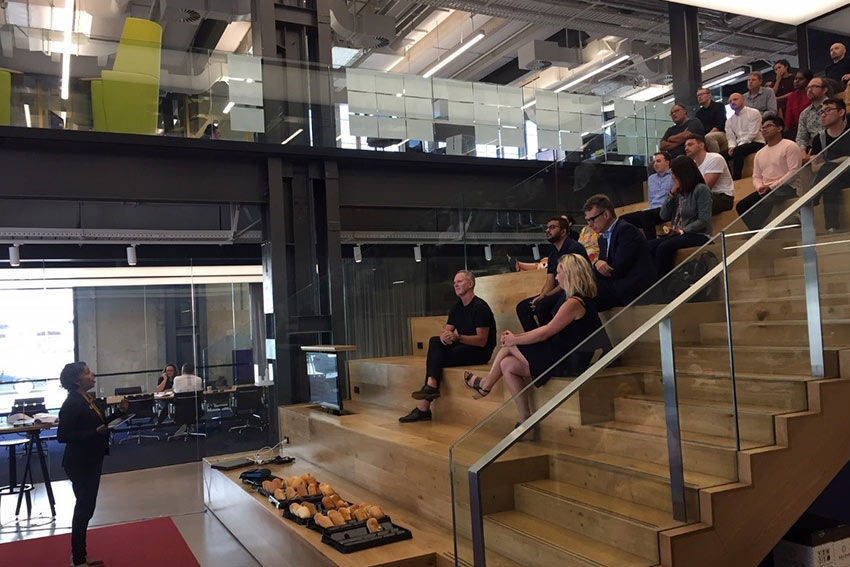 Researchers at the Centre for Social Data Analytics (AUT) have partnered with an Australasian architectural practice to explore the feasibility of combining a survey on workplace wellbeing with location data, to understand the impact of physical spaces on wellbeing at work.
The study with Warren and Mahoney Architects will measure the experienced wellbeing of staff against a backdrop of the tasks they are working on and the physical spaces they work in.
This pilot project will extend the data captured by a research tool called MyDay developed at the Centre for Social Data Analytics. The tool collects anonymous data about the wellbeing of a particular workforce, allowing leadership to better understand the task-related factors that drive wellbeing via high level reporting from the research team.
For CSDA researchers the Warren and Mahoney project is a chance to try capturing the effect of a new dimension of workplace wellbeing (the physical environment) and for Warren and Mahoney, a chance to try out a tool that could ultimately add value to its client offering.
The MyDay survey starts with a baseline survey that gathers basic demographic data and information about each employee's schedule, tasks and general satisfaction. Then in three more short surveys each participant records information about three specific work periods, recording the tasks they did, for how long, with whom, where, and how they felt while completing each task.
Gareth Huston, a Warren and Mahoney Principal and head of the customer experience team says Warren and Mahoney is interested in learning about effect of spaces on the human experience, because this can inform successful design solutions.
"Real evidence helps our clients formulate their business plans including HR strategy and resource planning which in turn provides functional briefing for the built form."
"We currently utilise online survey tools, ethnographic studies and research to provide insight. We can combine many ways of capturing information, but these are generally 'slice in time' data capture that doesn't provide a view of the working day. We are working with MyDay to provide a third dimension to the research – task, behaviour and environment."
"We are really looking forward to seeing if it is possible to draw conclusions about the effect of physical surroundings on wellbeing," says Rhema Vaithianathan. "If so, this adds a new and potentially very valuable dimension to the insight we can generate with MyDay."
Researchers expect to share aggregate information with Warren and Mahoney by the middle of the year, which will include visualisations of space usage and average emotional affect in the spaces and information about the emotional effect of specific types of tasks on employees.