Development economist Sarah Baird visits CSDA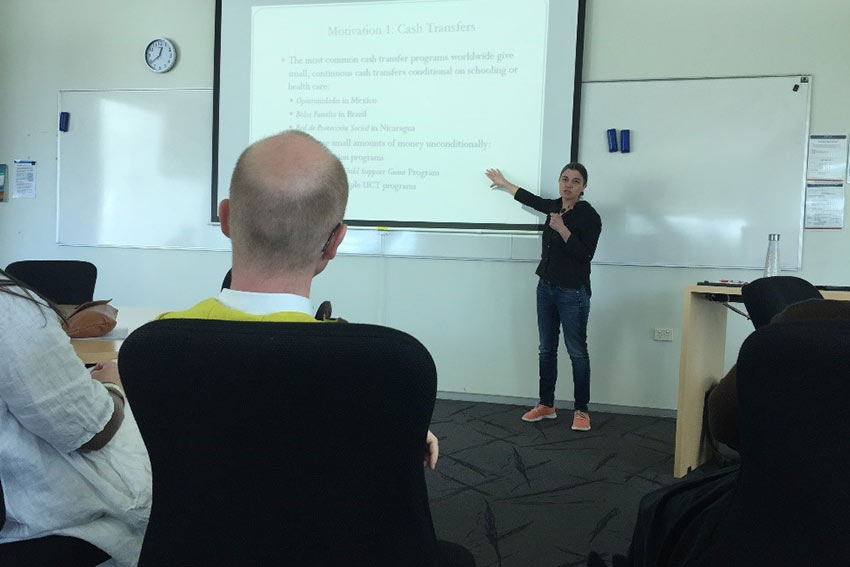 CSDA hosted development economist Sarah Baird from George Washington University (Washington DC) in February.
Sarah's research focuses on the microeconomics of health and education in developing countries, with an emphasis on Sub-Saharan Africa.
Sarah first worked with with CSDA researchers on the 2016 impact evaluation of New Zealand's home visiting program (Family Start), which developed into an ongoing collaboration on studies using New Zealand's rich linked administrative data.
The group has already built on and extended the Family Start work by looking at sub-populations of providers and recipients, and continues to work together on research questions of interest.
During her visit to AUT, Sarah presented findings from a five-year evaluation of a cash transfer program targeted to young women in Malawi (joint work with Craig McIntosh (University of California, San Diego), and Berk Özler (World Bank)).
The work points to both the promise and limitations of cash transfers for persistent welfare gains. It found that conditional cash transfers produced sustained improvements in education and delayed marriage and fertility for initially out-of-school females, but caused no detectable gains in other outcomes.
Significant declines in HIV prevalence, pregnancy and early marriage observed during the program among recipients of unconditional cash transfers evaporated quickly after the cessation of support. However, the age-standardised heights of children born to unconditional cash transfer beneficiaries during the program were significantly higher than the control group at follow-up, pointing to the potential importance of cash during critical periods.
View Sarah's presentation "When the Money Runs Out: Do Cash Transfers Have Sustained Effects on Human Capital Accumulation?" here.
Read the Working Paper: Baird, S., McIntosh, C. and Ozler, B. 2016. When the money runs out: do cash transfers have sustained effects on human capital accumulation? Policy Research working paper; no. WPS 7901Washington, D.C.: World Bank Group.