Promising interest in British junior doctor wellbeing study
September 19, 2017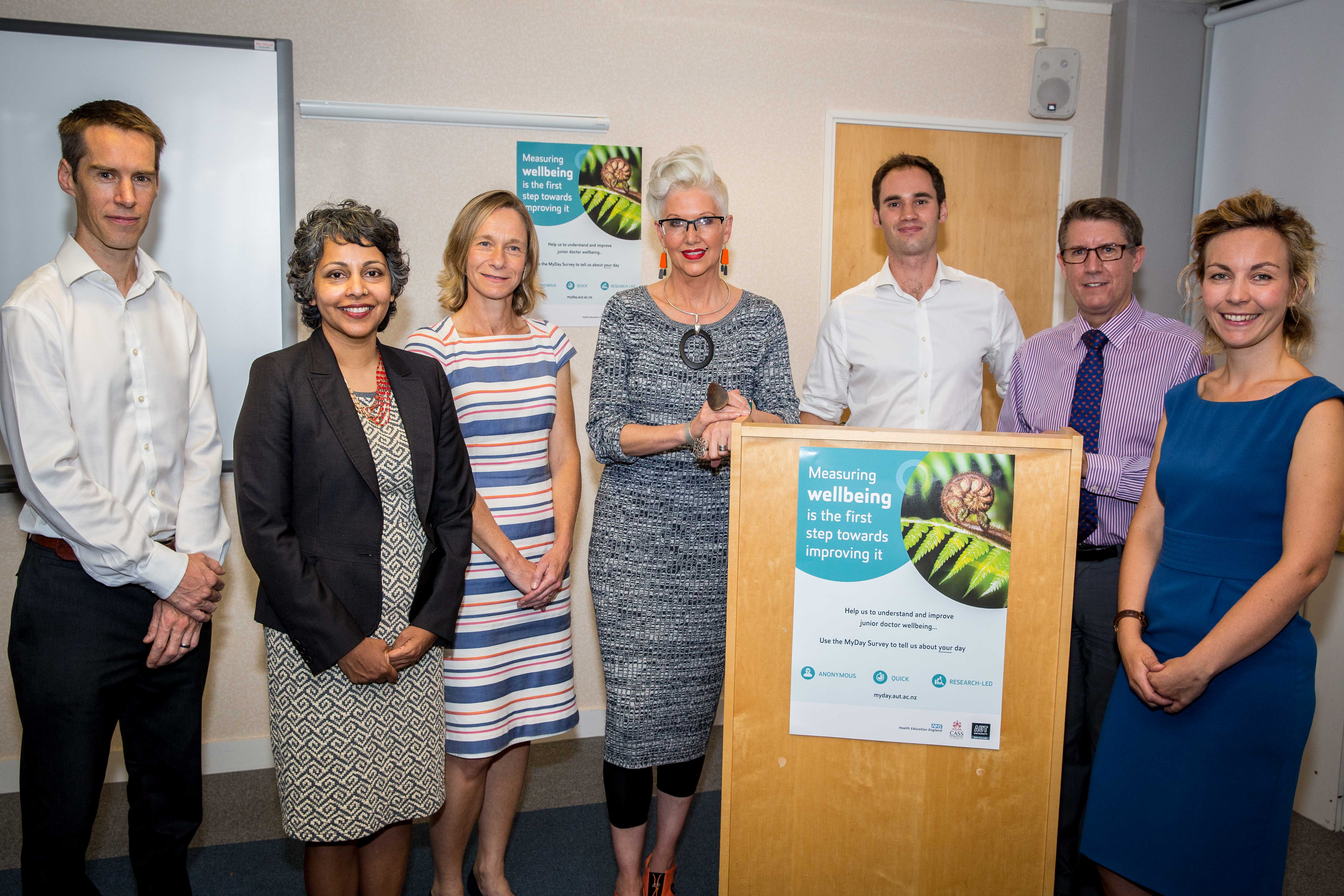 The MyDay research team (L to R): Matt Hammerton, Rhema Vaithianathan, Susannah Brock, Amanda Goodall, Freddy Beer, Ros Jarvis with Peter Hockey (2nd from RHS)
---
Junior doctors in Winchester, South England made the most of a recent meeting with researchers studying their wellbeing, including Rhema Vaithianathan, co-director of CSDA.
The study is due to start at Health Education England sites across Wessex in the next month.
"After months of work behind the scenes on important aspects like ethics approvals, it was exciting for the researchers to explain this project to junior doctors and get such an enthusiastic and interested response," said Peter Hockey, Postgraduate Dean at HEE Wessex.
The study adopts the Day Reconstruction Method developed by the Nobel Prize winner Daniel Kahneman to reconstruct doctors' working days.
Researchers will use the "MyDay" web-based survey tool developed at the Centre for Social Data Analytics to collect anonymous data from up to 2000 local junior doctors, gathering data about the wellbeing of junior doctors as a group, and what drives it.
Doctors who volunteer to do the survey will list tasks they did in three short windows of time, and how they felt doing each task. They will complete surveys outside work hours, each spending no more than two hours in total on MyDay.
Local junior doctors who are research fellows on the MyDay research team presented MyDay to their colleagues at the symposium.
Junior doctors at the event responded positively to the idea of the survey, and the overall view it would create about their work and wellbeing, with most indicating that they would be willing to take part.
The MyDay research project is sponsored by HEE Wessex and led by researchers Amanda Goodall (Cass Business School, City, University of London) and Rhema Vaithianathan.
The pilot MyDay survey will start in the next month and researchers plan to complete a full survey of up to 2000 junior doctors by December.
For more information: https://myday.aut.ac.nz/